375mm PVC Pressure Fittings
Did you know that Fusion Queensland and Fusion Melbourne are one of only a few suppliers in Australia to stock 375mm PVC Pressure Fittings? We keep a comprehensive range of large bore PVC pressure fittings and valves from 80mm all the way up to 375mm. Large bore PVC fittings are suitable for commercial pool projects, large irrigation jobs and civil projects. Our Large bore pressure fittings are compatible with Series 1 PVC-U pressure pipes manufactured to AS/NZS 1477 and Series 1 PVC-M pressure pipes manufactured to AS/NZS 4765.
Our Queensland office recently completed a commercial project that entailed 375mm Elbows, Tees, Reducing Tees and Reducing Couplings. Warehouse manager Nathan Moore captured the below images only a few days before the fittings were put in the ground.
375mm PVC Pressure Elbow 90° CAT13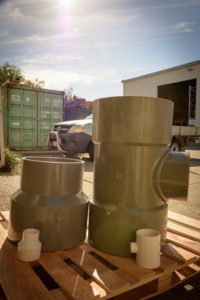 PVC Pressure Reducing Tee CAT 19 375mm
If you would like to learn more about our extensive range then please follow the link PVC Pressure Fittings
What is PVC? Follow the link to learn more now.