Product Description
Galvanised Blind Flange – Table D & E
Fusion Qld offers a complete range of backing rings including the Galvanised Blind Flange – Table D & E. Our range of backing rings are made to PIPA industry standard guidelines. Backing rings (flanges) is used to secure and join PVC or Polyethylene (PE) pipe. Fusion Qld's range of backing rings is available from both our Queensland and Melbourne locations.
| | | |
| --- | --- | --- |
| | Size | Code |
| Table D | 250mm | BWBFGD250 |
| | 315mm | BWBFGD315 |
| | 355mm | BWBFGD355 |
| | 400mm | BWBFGD400 |
| Table E | | |
| | 50mm | BWBFGE50 |
| | 63mm | BWBFGE63 |
| | 75mm | BWBFGE75 |
| | 90mm | BWBFGE90 |
| | 110mm | BWBFGE110 |
| | 125mm | BWBFGE125 |
| | 160mm | BWBFGE160 |
| | 200mm | BWBFGE200 |
| | 250mm | BWBFGE250 |
| | 315mm | BWBFGE315 |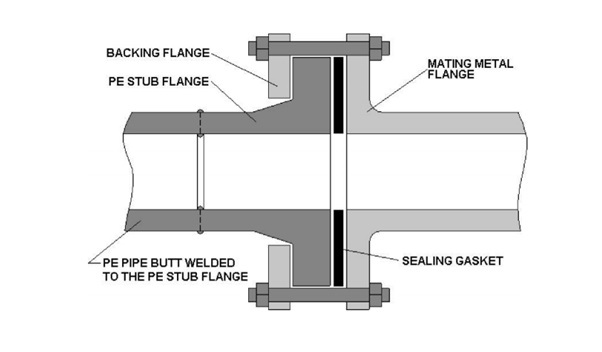 Flange Bolting Diagram
Galvanised Blind Flange – Table D & E
When joining two pipes together, it is necessary to ensure prompt alignment to prevent leaks. To enable PVC pipe to be joined together, a backing ring is necessary. Backing rings are typically round, made from either Galvanised Steel or Stainless Steel. Backing rings are also referred to as an anti-extrusion ring or backup ring.
INSTALLATION (Caution) – Since Polyethylene (PE) Pipe Systems are end load bearing, care MUST be taken when connecting pipe of another material to backing rings. To prevent the pull-out of non load bearing joints, read the below installation instructions:
Place the backing flange over the pipe before the stub flange is fused to the pipe.
Clean the matting prior to installation, ensuring they are free from contamination or damage.
To install, ensure the pipework configuration and matting faces align and are butted square prior to bolting up.
The gasket must be centred properly between the two flanges before tightening commences.
Tighten the nuts and bolts progressively and evenly in a diagonally opposite sequence
Bolt Tightening Sequence
When tightening pipe flange bolts, the aim is get even compression of the PE flange face. The best way to achieve this is to tighten the flange to the ideal final torquevalue. Flanges less than 450mm in diameter should do this in 3 stages. First apply 30% of the final torque, then 60% of the final torque and finish with the final torque value. For each progression the nuts should be tightened in a diametric sequence to ensure the load is applied evenly.
For large flanges, the recommendation is for 4 stages beginning with 25% and increasing the torque by a further 25% at each stage. Again, the nuts should be tightened in a diametric sequence.
Fusion Qld offer a range of backing rings from 20mm – 800mm available in ANSI, AS2129 and AS4087 standards.